Five activists arrested in US during protest against Netanyahu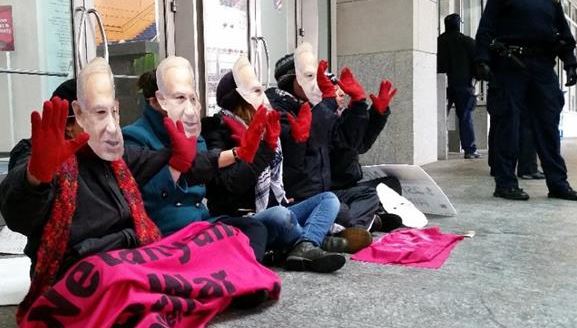 Police in the United States have arrested five activists who were protesting against crimes committed by Israeli Prime Minister Benjamin Netanyahu.
Dozens of people gathered outside the Washington Convention Center where Netanyahu, who arrived in the US on Sunday, is due to speak.
The protest was organized by Code Pink and other anti-Israeli groups.
The protesters held a sit-in on the first day of the annual conference of the American Israel Public Affairs Committee (AIPAC), which is one the most powerful pro-Israel lobbying groups in the US.
The protesters, who were wearing Netanyahu's masks and holding signs "Netanyahu is a War Criminal," called for justice and equality for the Palestinians and an end to the Israeli apartheid (…)