Syria: British boy among five children executing prisoners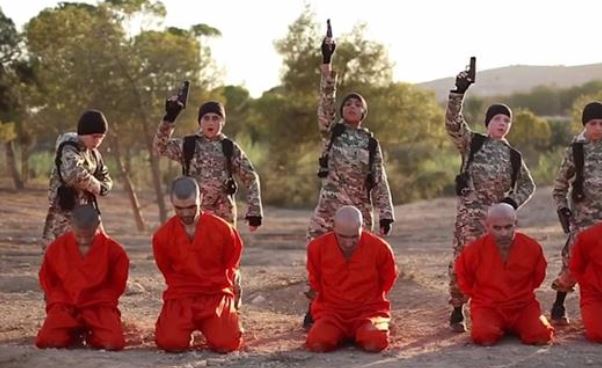 A shocking new video released by the Daesh (ISIL) terrorist group reportedly shows a British boy executing a prisoner with a handgun in Syria.
The blue-eyed white boy, identified in the video as Abu Abdullah al-Britani, is one of five children carrying out executions of Kurds in the city of Raqqah.
The boys, believed to be from Britain, Egypt, Turkey, Tunisia and Uzbekistan, make statements in Arabic before raising their handguns and executing the kneeling men in front of them.
The child executioners, believed to be about 10 to 13 years old, are clad in camouflage gear and black gloves and their faces are clearly on display.
One of the boys reportedly shouts in Arabic, "No one can save the Kurds even with the support of America, France, Britain, Germany, the devils in hell."
They then place handguns to the backs of the prisoners' heads and pull the trigger.
This screenshot reportedly shows the British boy identified as Abu Abdullah al-Britani.
Children have regularly featured in Daesh propaganda in which the terrorist organization boasts about preparing the next generation of militants (…)