The spread of terrorism in Africa, a great threat to human rights and democracy in African countries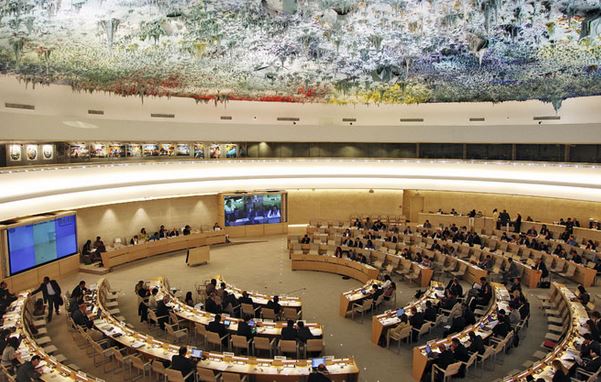 Written statement presented by the Human Rights Agency to the 47th session of the United Nations Human Rights Council – May 2021
We are now facing a rapid spread of terrorism in Africa so that the human rights and democracy of certain African countries, and also the values which are at the heart of the Charter of the United Nations and other instruments international organizations are increasingly threatened.
According to our research and verifications and according to information received from our partners in Africa, an unexpected threat from Daesh (IS) is strongly felt in this continent. Despite the heavy consequences that the world has suffered in recent years by the bloody presence of terrorism in the Middle East, it seems that recent crises such as the Corona virus have caused the spread of Daesh in Africa to be ignored; It is then that these days the number of victims of terrorist attacks has increased dramatically in this continent.
We sound the alarm and warn that Daesh terrorists, losing most of their ground in the Middle East, are now in the process of finding a new location and consolidating their position in Africa. The threat of Daesh in Africa is much more serious than that already seen in the Middle East; Since Africa, due to its rich natural resources on the one hand, and the poverty of its people on the other, offers them a very good opportunity to strengthen their human and economic means.
The Human Rights Agency to show the humanitarian situation on the ground, highlights below some negative consequences of the presence of terrorist groups and their bloody attacks against peoples.
In Mozambique, ISIS's attack on Palma in late March caused 7,000 to 10,000 people to go into exile. The displacement of the population began three years ago with the first attacks by the insurgents. There are now 670,000 internally displaced people who have found refuge in the country's three northern provinces. In addition, the displaced are at risk of being caught in the crossfire of the Mozambican army and terrorist groups.
In Nigeria, populations, frequent targets of bloody attacks, are fleeing Damasak, located in Borno State. After a series of terrorist attacks, carried out by members of Iswap – the Boko Haram faction affiliated with ISIS, people are fleeing the area and at least 18 people have been killed. Thousands of vulnerable people have crossed the Yobe River which separates Nigeria and Niger, others have taken the road to Maiduguri, the capital of Borno State, in an attempt to escape repeated terrorist attacks. It's not hard to imagine the plight of the 85,000 residents of Damasak who depend heavily on humanitarian aid.
Also in central Mali, dozo hunters and terrorists from the Katiba Macina clash regularly. The latest clashes have left dozens dead, villages burnt and families displaced.
In Niger, attacks against civilians have increased since the start of the year. More than 300 people have been killed in three rounds of attacks on villages and camps in the west of the country, bordering Mali. Armed men on motorcycles killed at least 19 people in an attack on the village of Gaïgorou a few weeks ago in western Niger. This area close to the Malian border has already been hit on several occasions by terrorist attacks. Last March, thirteen people were killed during attacks on three villages (Zibane-Koira Zéno, Zibane Koira-Tégui and Gadabo) in Anzourou, a commune near Dessa. The last of these large-scale attacks took place on March 21 in the Tahoua region, killing 141 in a matter of hours in three villages and surrounding camps. According to a UN report, released on May 17, 2021, more than 10,000 people fled their villages in 48 hours in western Niger due to repeated terrorist attacks.
We have only mentioned a few cases of disasters linked to the spread of terrorism in Africa to show the sad and ignored reality that exists today in this continent.
We believe that the deteriorating security situation in parts of Africa has reached a dangerous peak, so we call on African governments to shoulder their responsibilities to protect civilians and provide them with access to humanitarian aid. The fight against terrorism presupposes close international cooperation between States and NGOs within the main international organizations empowered to decree prevention or sanction mechanisms within the framework of the fight against terrorism; which is still very far from reality.
To prevent and counter the influence of terrorism in Africa, it is essential to eliminate the socio-cultural and economic factors of the growth of poverty.
For this we want the democratic standards and criteria of African governments to be strengthened every day so that freedom of expression and religion are respected more than before. We are convinced that the fight against terrorism can only be done with full respect for human rights and international humanitarian law.
Today, many foreign companies commercially exploit Africa's natural resources benefiting from considerable interests while the African peoples, who are mostly poor, have no share of the resources of their own territory. African governments are advised to pay more attention to the right of their people to the commercial interests of foreign companies. In this way, it is hoped that part of the problems of the African populations caused by poverty will be solved.
We hope that Ms Fionnuala Ní Aoláin, Special Rapporteur on the promotion and protection of human rights and fundamental freedoms while counter-terrorism, will consider the threat of terrorism more as a phenomenon which is no longer limited to countries such as Afghanistan, Iraq, Syria and Pakistan, but a global phenomenon which has today found a good place in the African continent.